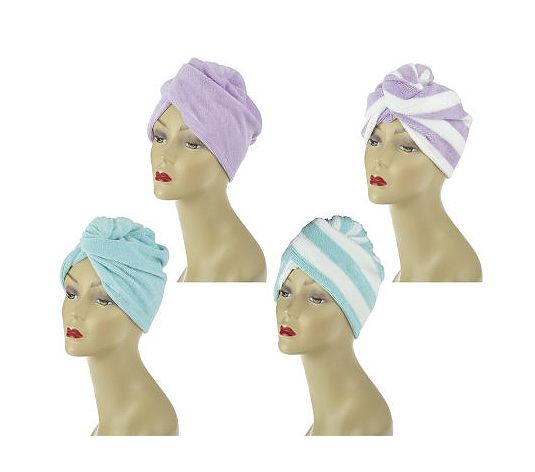 If you're anything like me, you assume that the majority of infomercial products are useless junk in reality. I must admit that, years ago, the first time I saw an advertisement for the Turbie Twist, I laughed. It seemed like a total waste of money. I thought,
yes, I get it...it stays in place...but...it's just a TOWEL!
Fast forward to a couple of months ago. I was browsing the hair accessory section at my local drugstore and I noticed the Turbie Twist displayed unassumingly amongst various hair styling paraphernalia. I don't know what possessed me to do it, but I grabbed one and tossed it into my cart. I totally expected to think it was a waste of money and to give up on it after just one use, but, to my delight, my Turbie twist turned out to be surprisingly awesome!
I opted for the less expensive (by one dollar) unprinted microfiber version. I examined the package before I tried it out. The product claimed to be made of a "new" microfiber material that is supposed to dry your hair faster. I didn't even know these turbans were supposed to do that.
The Turbie Twist is thin and, at first glance, seems a bit flimsy. I doubted its ability to cut down drying time for my long, plentiful hair. The tag says that the product is made of 80% polyester and 20% polyamide. It's machine washable (always a relief). The back of the towel has an elastic loop. To use it, you're supposed to flip your wet hair over, place the back of the towel over the back of your head, and then drape the rest of the towel over the length of your hair. Then you simply twist the towel up around your hair and tuck the end of the fabric into the elastic loop (it's all very obvious and straight forward once you have the product in front of you).
So I decided to give it a try. At first, I thought the Turbie Twist was too small for my hair. The length of my hair was slightly longer than the length of the towel. But I just folded over the ends of my hair and twisted the towel around my wet locks. Worked just fine. If you have one of these and you have long hair, you can still fit your hair in the towel if you fold the ends of your hair over.
I was amazed to see that the Turbie Twist knocked at least a third off my usual drying time (probably more). The Turbie Twist IS thin, but it is surprisingly absorbent. It seems to just suck the moisture out of my hair.
And...the Turbie Twist IS liberating! It's not like having a bulky towel around your head. It's small, lightweight, and comfortable. It's also perfect to keep by the sink so I can quickly get my hair out of the way while I wash my face or apply make up.
I was surprised by how much I love this thing and decided I needed at least one more (although I knew I would have loved to have a whole set). I swung by the drugstore and grabbed a plain pink one. When I got home, I noticed that this one was 100% cotton. I guess I mistakenly bought the original version instead of the microfiber version. I was disappointed to discover that this cotton Turbie Twist lacked the absorbent power of my microfiber Turbie Twist.
Moral of the story: If you are going to buy a Turbie Twist, make sure it's the
MICROFIBER Turbie Twist
!
These things are awesome and you're going to want a whole set to use after each shower. I found this AMAZING deal on this
set of four MICROFIBER Turbie Twists
. Such a better price than what I paid at the drugstore.
Don't you just love when a product exceeds your expectations?
<3 Bee